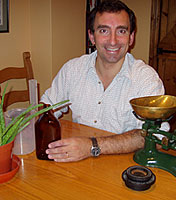 BSc(Hons) Phytotherapy, MNIMH, MCPP
I am married to Ellie with 2 children (Sian 11 & Finlay 8) and live on a smallholding just outside Y Ffor. Originally we had intended to farm herbs for culinary purposes, but I became more interested in their medicinal use. Five years on and I have now finished my degree in Phytotherapy (Herbal Medicine) with the University of Wales and, having spent 20 years in the RAF flying Search & Rescue helicopters, I decided to have a change in career.
Ellie and I set up Perlysiau Llyn Herbs to produce organic herbs for medicines and also quality products under the "Petha' Pur" brand in an outbuilding on our farm - drop in if you're passing.
Alongside the herbs we have a small flock of pedigree Lleyn Sheep and, in my spare time, I enjoy sub-aqua diving, reading and, in 2003, ran the London Marathon for Children with Leukaemia - NEVER AGAIN!
I believe herbal treatments can work well alongside orthodox medication and are particularly effective in chronic conditions such as eczema, while the holistic approach of considering lifestyle and diet can also make a great difference.
Please feel free to ring any time if you have a query about herbs and health or visit our website: www.llynherbs.co.uk